We took a big leap (a much needed one) and ordered a new bed and mattress! I am so excited to begin decorating our bedroom. This blog post is a space where I have put a bunch of my faves and inspirations together.
This is the bed we bought! The headboard color is a dark gray. We did not buy this quilt.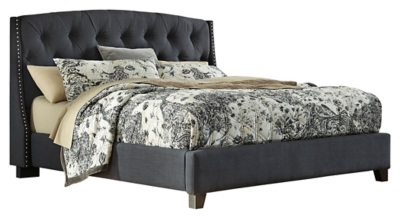 I am typically a comforter gal. I love a big, thick, fluffy and snuggly comforter. I want to get a quilt this time to tuck in, like in the photo above.
We currently have a white comforter and it has treated us well, but it will be the wrong size since we upgraded to a king. I am loving this raw-edge white quilt from Target. You might be thinking that I am crazy for having white with a baby. I would agree that yes I am crazy – but the thing about white is that it is bleach-able. This one is $79, for a king!
To add color to the room, I will fold a throw blanket across the foot of the bed. I can change this for the season or as I please! Loving these ideas…
Oops, I guess those are both neutral. But, if I want to add color with a throw I totally can. I definitely will with pillows. I heart pillows.
So for curtains, I am sold on white and want them to be fairly sheer. To me, they brighten the space, and provide privacy without knocking out too much light. In our house we have wide white blinds on every window and we can shut those completely so there is no need for black out curtains or anything major there. (Sleep? Who needs it? Go to bed early. Early morning light is where it's at!)
There are a couple options I am liking for this. I love the hint of silver metallic in these, to tie into the silver part of the bed. I'm not totally wild about them because my first impression is that they are cheap looking. I would need to see them in person.
I really like the curtain image on the right. It is hard to see from this picture, but they do have a vertical stripe or stitch running down them.
For color, I might be a little bit crazy, but I really like this red-orange color for nightstands. "Heirloom" as they are called, could bring an interesting pop of color alongside the dark gray and white. I think the curve of the legs will play well with the slight curve of the headboard legs. The metallic hardware pairs well with the bed too.
Have I completely lost it?
And last but not least, I am ALWAYS a fan of a mercury glass lamp…
It is likely that I will change my mind 101 times before deciding on a direction for our bedroom decor. Sigh!
Note: All images link to the site to purchase them. All are from Target. Go figure. Oh, and almost all their home decor is 10% online with the code HOMESTYLE.
Happy Friday to you! XOXO